Skip to content
Wendi Dunlap: design, music, art and commentary
24 years ago this week: YEAH! Magazine #3
Following up on last week's post, here's YEAH! Magazine #3, featuring the Life, the Young Fresh Fellows, Sam Smith, the PopLlama Picnic, and more. (Click the cover to download the whole PDF.)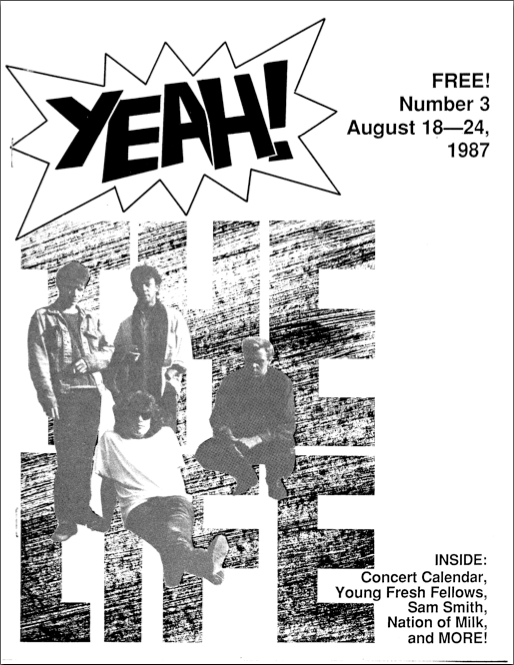 This issue was reasonably solid, I think. The magazine's volunteers weren't burned out yet, and we were all pretty motivated. Some of the highlights this time around included another episode of Rob Morgan's Two Katz and a Toaster, several references to Stump, The Band, and an early review of Soundgarden, sort of (as Sound Garden), by Danimal:
"Chris Cornell and Matt Cameron from Sound Garden, along with original Garden drummer Scott on bongos, were up next. Chris and Matt both played acoustic guitars; Chris played one of those with way too many strings. They played 'Train Train,' and a song, probably from this here new album, called 'Painting My Face.' A Syd Barrett tune and a great Zeppelin medley, then Scott got to sing Sonny Boy Williamson's 'Sloppy Drunk Blues.'"
Notice also that "Sound Garden" is listed twice in the week's show listings—both times, as an opening band at a club show. Ah, the old days.
A famed Squirrels performance was also immortalized in this issue—the PopLlama picnic show at which the band jumped into the lake.