Skip to content
Wendi Dunlap: design, music, art and commentary
The miniature fairy garden project: getting started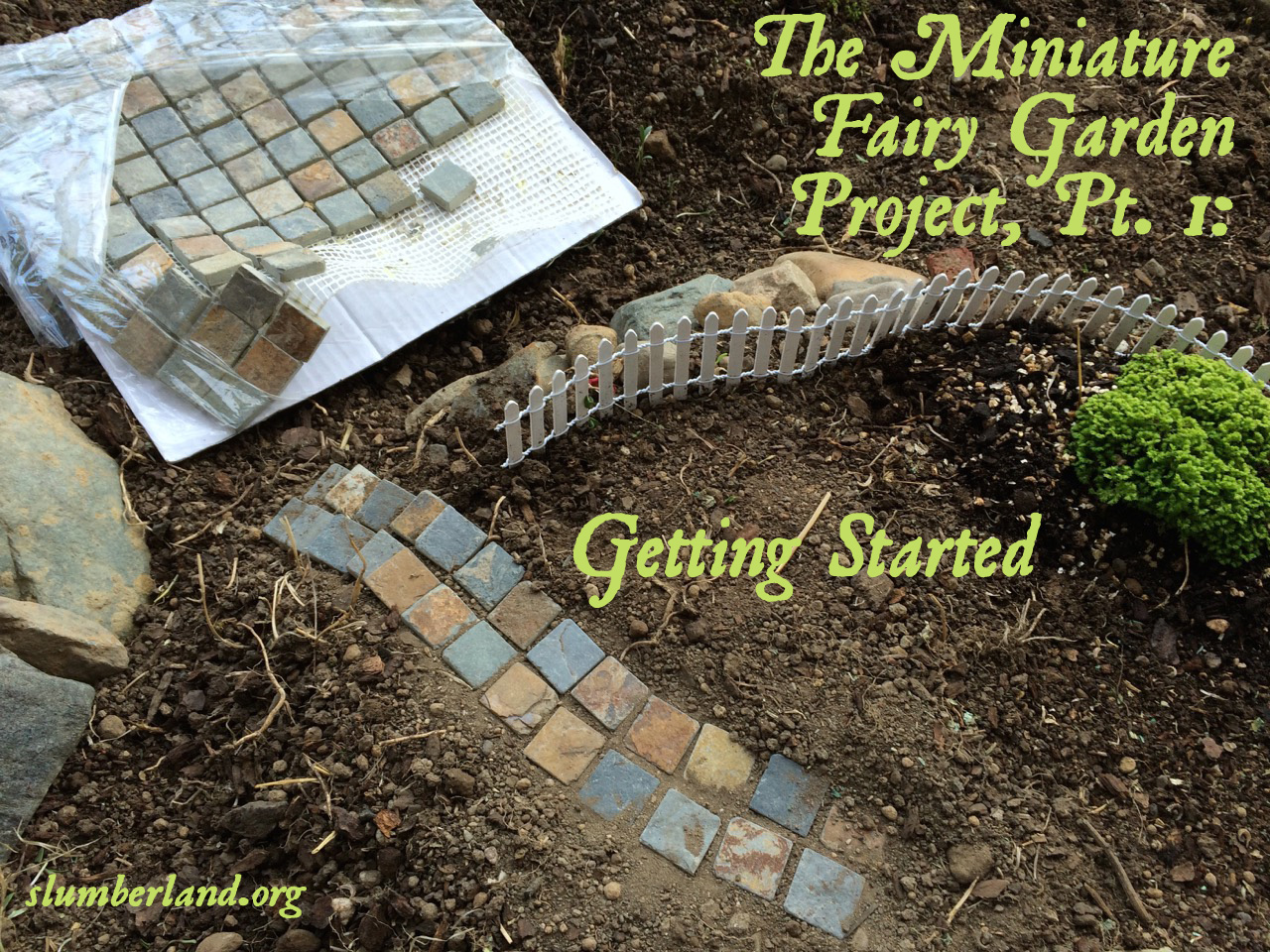 So, you want to have a fairy garden. Before you get started, there are a few things you should consider. Some of them I remembered to consider myself; others were hard-won wisdom after I'd been working on my miniature garden for a while. No matter what, though, remember that you are doing this to make something you love. In the end, no matter what suggestions I make, the decisions are yours — and if you like what you created, then you made the right ones!
First: What do you want your garden to be?
Location: There are three basic locations for gardens, in a general sense. Portable indoors gardens are set up in a dish, or a basket, or a flowerpot, or some other container, and kept indoors. Because they are indoors, you don't have to worry about weatherproofing or things like that. Portable outdoors gardens are the same thing, but they stay outdoors. Sometimes they are in large containers like old wheelbarrows. In-ground gardens are not portable at all. They are right in the ground like any other garden feature.
Size: Once you know your location, you have an idea what size you need. Fairy gardens can be tiny — tiny enough to fit in a teacup! But there are also some that are very large. The space available will help you decide.
When?: The vast majority of fairy gardens people make are spring and summer things. They set them up in the spring, then when fall arrives, they take it down and set everything aside for next year. But there are others that are year-round. (Mine is one of those.) There are also some that are specifically set up for holidays like Christmas. If you are going to do an in-ground year-round garden, as I do, you need to prepare it for winter weather.
Theme: You don't have to have a specific theme, but it's common to have a general direction. What will your garden look like? Common themes include Park, Village, Beach, Farm/Garden, Fantasy, or some mixture of these. Mine, for example, is a miniature village. If you chose a theme, it will help you narrow down your choices when you're deciding what you want to add. But you don't have to stick to any theme unless you want to.
Style: This ties in to the next topic, "Which type of gardener are you?" Basically this is the sort of garden you want to do — one that is toy-based, so children can play in it; one that is whimsical and fantastic; or one that is so realistic that in a photo, you can't even tell it's miniature. A related decision: do you want fairy figures in your garden? Some people do, some people don't. If you do, that will also relate to the size you choose for your other garden fixtures.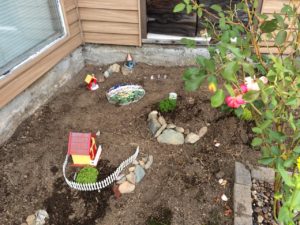 Next, what sort of gardener are you?
Purist: Everything looks like the fairies made it out of stuff they found. Think "The Borrowers." Houses and accessories might be made of twigs, pencils, buttons, paper clips, ribbons, bottle caps, etc. It's not about realism, but instead making it look like the fairies have created a space in the human world.
Miniaturist: Small is what matters. You might have miniature animals, etc. You're non-purist about what is included as long as it is small.
Playgrounder: The garden is to be played in, and that is the priority. You design it so kids can move around in or around it, and play with the figures and accessories.
Cutista: Cute is your priority. Realism, accuracy, and coherent style are not as important. It just needs to be adorable. People squee when they see your garden, and rightfully so.
Gardener: You're doing this for the plants. Your fairy garden will be very, very green.
Combination: Any or all of these! This is probably most common.
Or, you can just wing it. That's OK, too!
I'll stop right here for now. The next post will address a few more things to consider when creating or buying, as well as some "magic tips" to help make your garden come to life.
Don't forget that if you are in the Seattle area, I teach a workshop on creating your own unique fairy garden. You can find out more and sign up at Verlocal.
See the previous post in this series here.