Skip to content
Wendi Dunlap: design, music, art and commentary
Before and after: the bedroom project
My bedroom was bad news.
After 18 years of living in the house, the bedroom walls were still the same dingy white they'd been on the day we moved in. Only dingier. The nasty blue carpet had been partially removed, revealing plywood with random splotches of paint. The Venetian blinds were broken. And the worst thing? The horrible, awful fluorescent light fixture that blighted the ceiling. It was like this one:
Yes, one of those. In a bedroom. I hated it. And yet, for 18 years it stayed. And stayed. On as little as possible, but it stayed.
Here are a few "BEFORE" pictures of the old bedroom.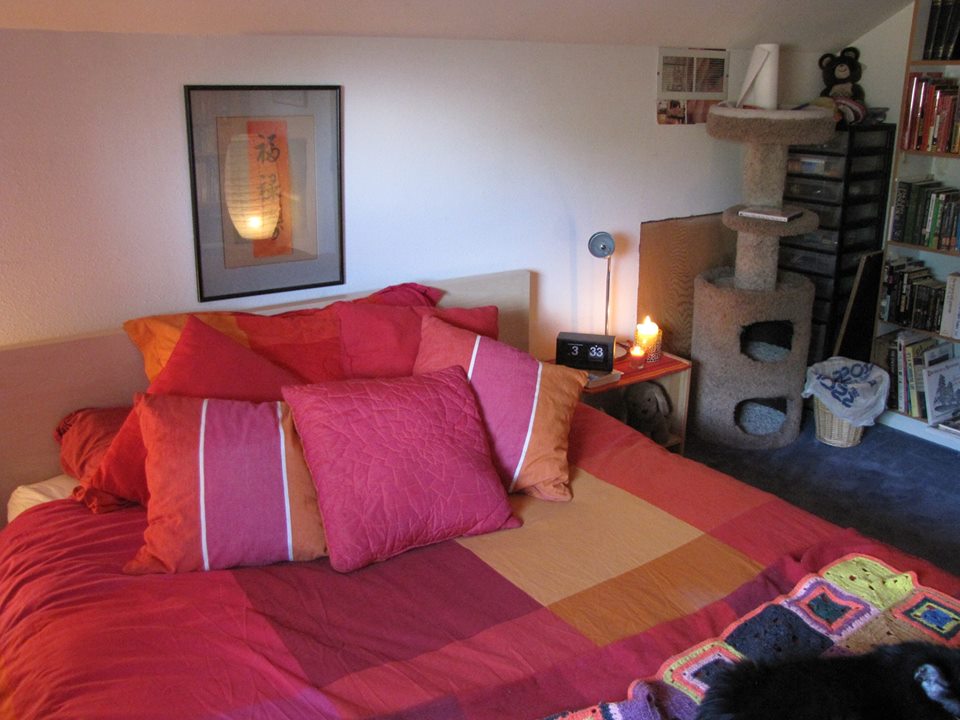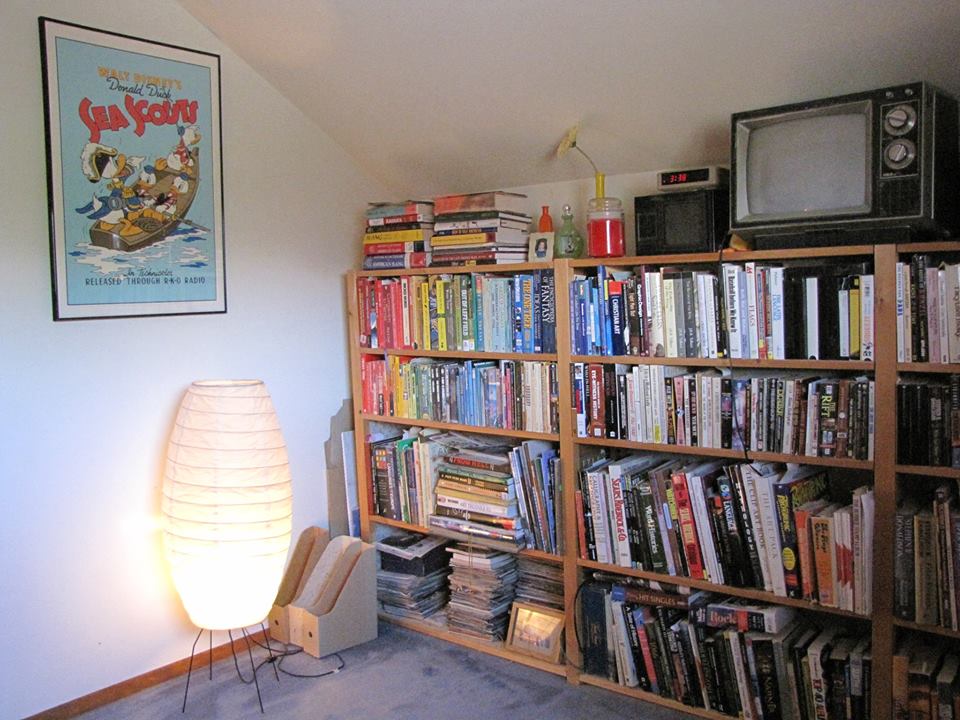 It doesn't look like that any more! 
I wanted color, warmth, and openness. I think I got it! This is the result of the 2014 redesign: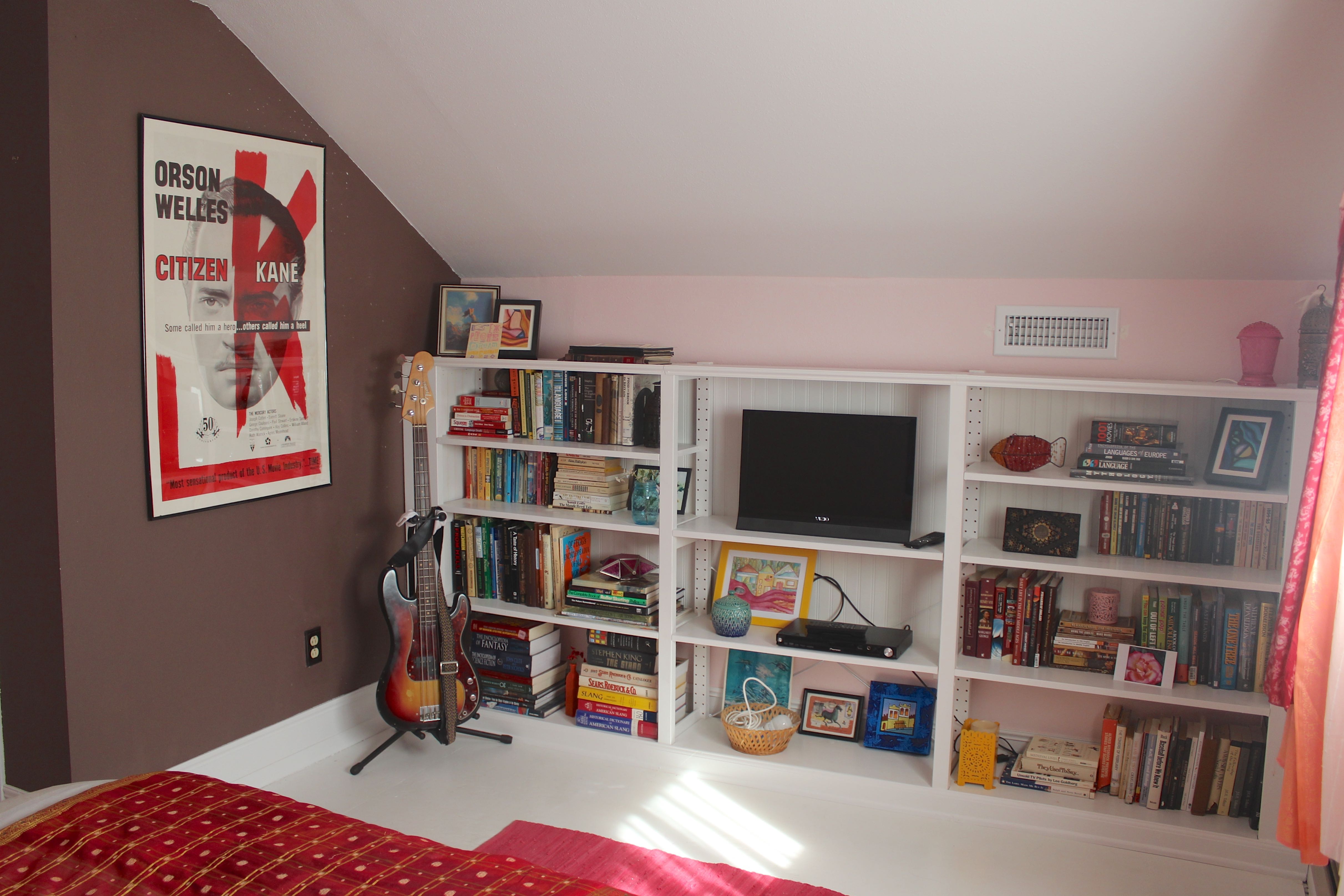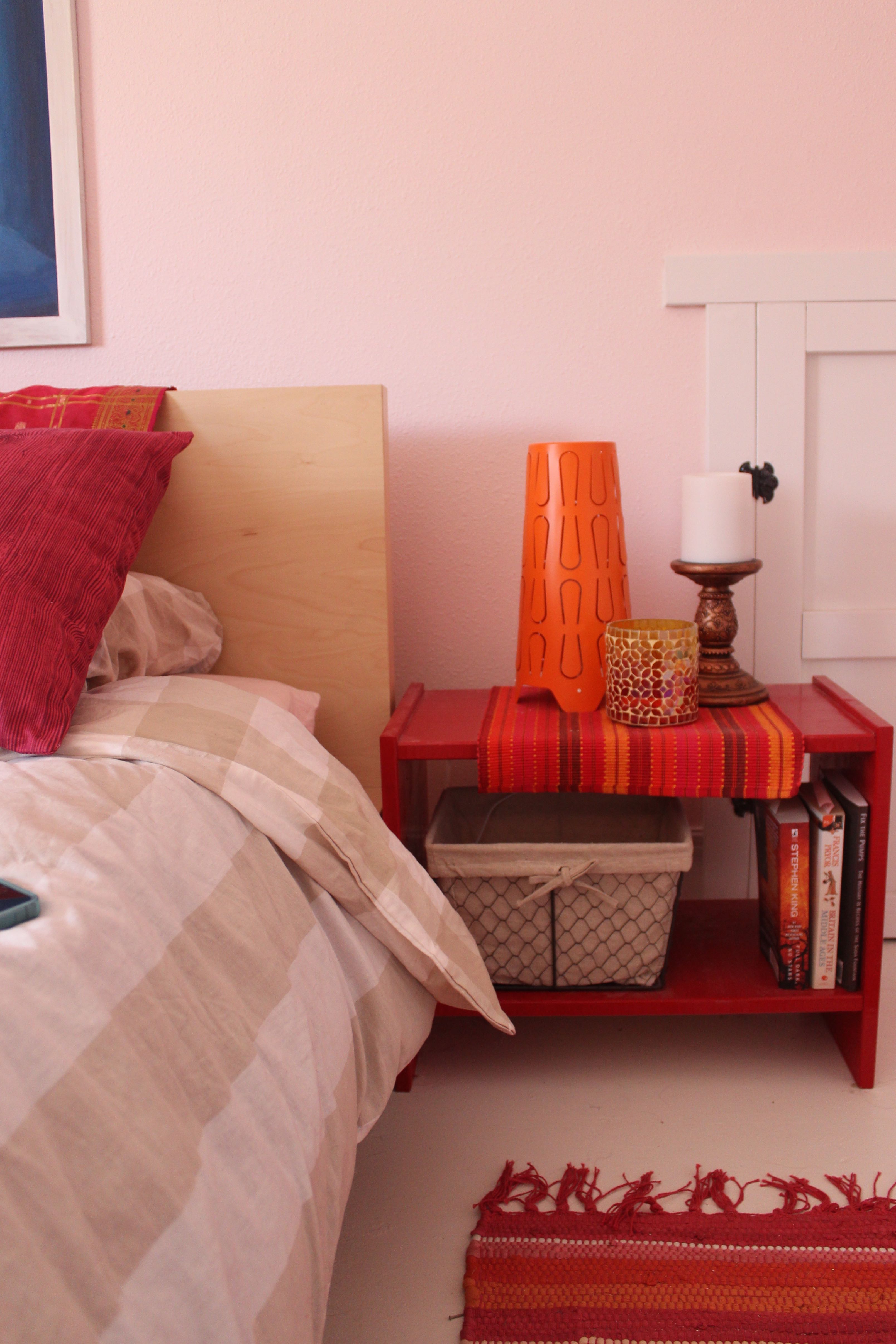 So here's what the project included:
Ripping out blue carpet
Removing old baseboards
Removing old fluorescent fixture
Priming and painting walls, floor, trim
Building and painting a door and trim for the hole leading to the attic
Painting shiny nickel light fixture to be oil-rubbed bronze instead
Repairing drywall ceiling, installing new oil-rubbed bronze light fixture
Removing/refinishing/replacing doors' hardware
Replacing switchplates, etc.
Rebuilding baseboards into wider ones (stay tuned for more on that in a later post)
Spray painting old pine bedside tables with gloss red enamel
Adding beadboard back to old bookshelf
Adding trim to old bookshelf
Using MDF to fill in around sides of bookshelf, making it look built-in
Painting bookshelf
Decorating! Finding art, lamps and soft furnishings to suit the new room.
The project was relatively inexpensive, though like all such projects, it was still more than planned. Here's what I had to buy (I'm sure I'm missing some things):
Floor paint
Wall paint
Trim paint
Primer
Spackle
Various painting supplies, sandpaper, etc.
Spray paint for side tables
Spray paint for light fixture and some door hardware
Baseboard material
Drywall to patch ceiling
Spray texture to blend new drywall with old
New switch/outlet plates
Hinges, etc. for new attic door
Trim for bookshelf
Beadboard for bookshelf (some I already had, some I had to buy)
MDF
A bunch of decorating stuff — lamps, duvet cover, saris for decorating, picture frames, pillows, etc. A large number of things, however, came from thrift stores.
All in all, I'm deliriously happy with how this one turned out. I love the color and warmth of the room. I wasn't sure about the white floor, but I love it, too. The room is much easier to clean now that the carpet is gone, and it's so much brighter with the new paint.
Special thanks to my housemate Mike who went above and beyond in helping with the project, including building the adorable tiny attic door.