Skip to content
Wendi Dunlap: design, music, art and commentary
My childhood home is for sale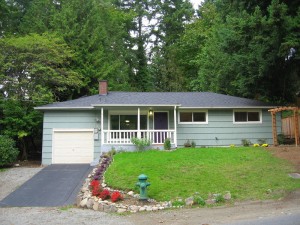 The house I grew up in, in Lake City, is for sale. My mom sold it a few years ago to a flipper who is asking what seems to me to be an outrageous amount of money for the place. He also tore out all the rose bushes.
It's a nice little starter home, but it's tiny. I mean tiny. Not "spacious." And when they say "formal dining room" on the flyer, I laugh. You see that window next to the breakfast bar? That is the "dining room", and it was tiny when we lived there, which was before they put the breakfast bar in.
The upstairs is remodeled now, which is an improvement. It was just a little attic cubbyhole room before. I wonder if they've done anything about the heat, though. The upstairs room had no heat to it when we lived there. I had a space heater.