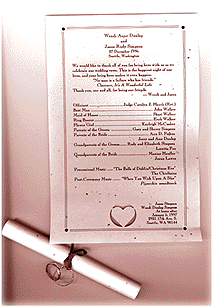 I designed a tiny scroll, tied with red ribbon, that listed the names of the wedding party and the officiant, contained a quote from It's A Wonderful Life and thanked everyone for being our friends, and listed my new married name. Basically, it was an elaborate "At Home" card, since otherwise we wouldn't have needed a program. I used a fancy hole punch to decorate it, and printed it on special paper.
Here's the text of the program:
---
Wendi Anne Dunlap
and
Jason Rudy Simpson
27 December 1996
Seattle, Washington

We would like to thank all of you for being here with us as we celebrate our wedding vows. This is the happiest night of our lives, and your being here makes it even happier.
"No man is a failure who has friends." Clarence, It's A Wonderful Life
Thank you, one and all, for being our friends.
-- Wendi and Jason
Officiant: Judge Carolyn J. Hayek (Ret.)
Best Man: John Walker
Maid of Honor: Shari Walker
Ring Bearer: Eryk Walker
Flower Girl: Kayleigh McCusker
Parents of the Groom: Gary and Sherry Simpson
Parents of the Bride: Ann D. Fulton, Jerry and Ann Dunlap
Grandparents of the Groom: Rudy and Elizabeth Simpson, Loretta Fox
Grandparents of the Bride: Maxine Haufler, Joann Lawes
Processional Music: "The Bells of Dublin/Christmas Eve", the Chieftains
Post-Ceremony Music: "When You Wish Upon A Star", Pinocchio soundtrack
Jason Simpson
Wendi Dunlap Simpson
At home after
January 5, 1997
(our address here)
Seattle, Washington, 98144

---


Back to Index
© 1997 by Wendi Dunlap Simpson and Jason Simpson