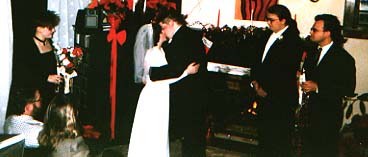 On Christmas Day, the Weather Channel was predicting a big snowstorm to hit the next day. They weren't kidding. We had snow and freezing rain all day on the 26th. This was a little worrisome. I was getting stressed. It was certainly gorgeous outside, though.
On the wedding day, I slept in as long as possible. When I woke up and looked outside, everything was white. Uh oh. We live on a steep hill. Well, it's flat where we are, but you have to go up the side of the steep hill to get there. Seattleites are notorious for not owning chains, and not being able to drive in snow. I expected the cancellations to start rolling in soon.
Jason's parents brought down an extra 4WD vehicle so we could go get people. The officiant called and said that not only was she snowed in, but the power was off at her house, so she was freezing. Our housemate Brent went off in the 4WD to get her, about 5 hours early so she could stay warm. :)
The best man and his fiancee were snowed in, so Jason's parents picked them up. The maid of honor and her boyfriend apparently had to dig their way out of their parking lot. My mom called and said she didn't think she could drive. At this point we had no one left who could get her. She said she was going to try chains. My sister, mother of the flower girl, called and said that her husband would not let them drive because he was afraid that someone else trying to drive in the snow would hit them. My skating coach called shortly thereafter and cancelled. My old roommate and his fiancee cancelled; they were stuck on Bainbridge Island. This was starting to look like a much smaller wedding than the 41 or so people we'd been expecting. My mom called back and said the chains didn't fit, and she was going to have to get someone to take her to the store to get more. The photographer called and said that he would be here even if it took a dogsled. The ring bearer would not be able to get there; his parents were snowed in.
I was doing a lot of fidgeting because no one would let me do anything, so there wasn't really anything to do. The wedding was at 7:30pm -- still several hours to go. Many of the guests who did show up arrived extra early because they'd allowed so much extra time to travel.
At 6:45 or so I went in to my studio, where all the wedding stuff was, to get dressed. I was assisted by Shari and my housemate Amanda. They got me properly zipped up and made up.
Finally, the music started ("Christmas Eve/Bells of Dublin" by the Chieftains) and after a few moments, the processional began. Since there was no ring bearer, Shari's boyfriend David played the role, carrying in the candle with the ribbons, bells, and rings. Shari carried the flower girl's candle. Then I walked in behind them. (I didn't want anyone to give me away, for various reasons.)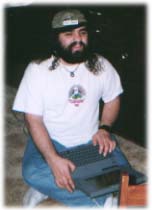 The ceremony was supposed to be short and simple, so there had been no rehearsal. It went off OK, with only minor glitches. While this was going on, one of our friends, David Steinberg, was on IRC from the back of the room during the ceremony, reporting "play-by-play" for our friends who couldn't make it. (See the photo to the right.)
The ceremony was about 5 minutes, short and sweet! Jason and I exchanged silver celtic knot rings and kissed... then the recessional/post-ceremony tape began, with "When You Wish Upon A Star" from Pinocchio. (Other songs on the tape included a variety of Christmas songs, "Real Love" by the Beatles, "I'll Be There" by the Jackson 5, "Lovesong" by the Cure, and other things.) When that tape ended, we switched to the Big Band channel on our satellite dish. (No, the TV wasn't on -- we ran it through the stereo.) We moved over to the reception table to sign the marriage license and have many many pictures taken.(See below.)

There were about 25-30 guests after all, not a bad number for a home wedding.
All in all, we had a very good time. More people dug through the snow to get there than we had a right to expect. The house was warm and beautiful, with a roaring fire in the fireplace, hot spiced cider on the stove, and friends everywhere. It really couldn't have been much better, except if more people had been able to attend. I do recommend Christmas weddings -- I just recommend sending your guests tire chains if it snows. ;)


Back to Index
© 1997 by Wendi Dunlap Simpson and Jason Simpson